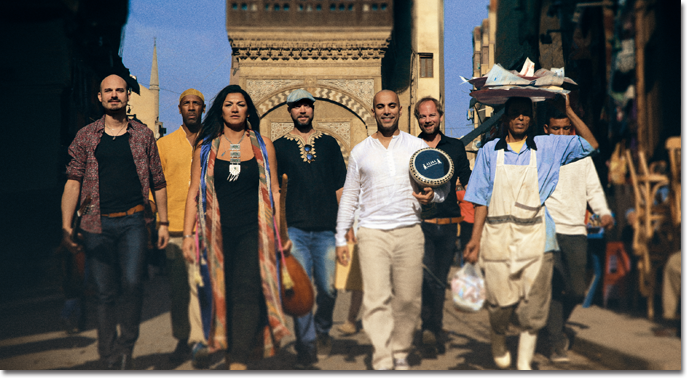 Biography
Formed in 2008, Tarabband, a word game on Tarab and Band, is a six-member band composed of the Iraqi Egyptian Nadin Al khalidi and fve other musicians from Sweden and France. A cross-cultural attempt at creating Tarab "ecstasy through music" when emotions and music merge and become one.
The group's leading fgure and charismatic vocalist Nadin Al khalidi, fed from Iraq year 2001 arriving to Sweden as a refugee. Settled in southern Sweden, Malmö where she now calls home. Whether it's Iraqi, Egyptian, or Swedish, Nadin celebrates her triple identity, a mix that is culturally rich.
Tarabband's music embrace Nadin's lyrics that narrates her journey of survival, exile and life. Weaving the personal element into the songs allows Nadin to talk about " people we never hear of. The least we could do is share their story."
Tarabband's debut album "Ya Sidi" – " My Master" was released in 2013 and contains 10 original compositions. The music and words, as Tarabband's members, travels between Sufsm, Folk, Flamenco, Jazz and settles in Tarab, the common denominator.
Widely spread through out the Middle east and North Africa, the album's frst track "Baghdad Choby" is the group's "visa" to the middle east's music scene.
(Choby is an Iraqi rhythm)
The group's second album "Ashofak Ba'den" – " We'll meet again someday" will be released in February 2016. The record will unfold stories behind " The very last photo of a couple who was separated by the force of war and terror in Northern Iraq. The couple's destiny remains unknown".
Tarabband held successful sold out concerts in Egypt and Jordan earlier 2015, in addition to festival participations in Malaysia, Zanzibar, Sweden and Europe. Played Womex in 2014
Nadin Al khalidi – vocals, saz, guitar / Gabriel Hermansson – oud, guitar, vocals / Dan Svensson – percussion, flute, vocals / Filip Runesson – violin / Romain Coutama – bass / Stephan Jarl – percussion, vocals
---
Genre: Cross-Over
(Arabic Music from Sweden)
Selected to Womex 2014, Visa for Music 2015, Folk Alliance 2016.
Territory: Global, Middle-East, USA and Asia
Follow Tarabband:
Concerts
17-21/2-16 – Folk Alliance, Kansas (USA)
Listen
Baghdad Choby
---
---