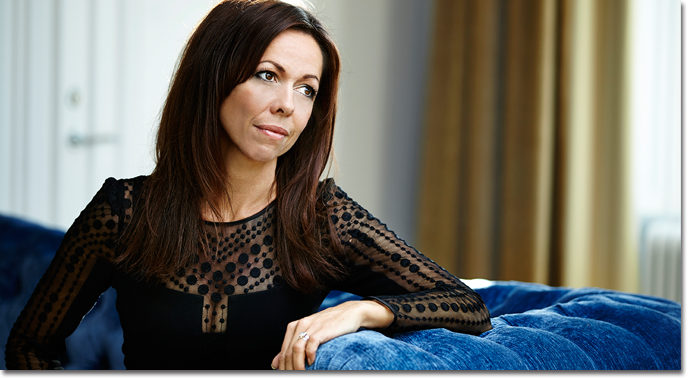 Biography
Rigmor jus released her critically acclaimed "When you make med smile" together with Dalasinfoniettan. This is her 10:th album.
The UK's Guardian newspaper has called Rigmor Gustafsson "penetratingly delicate, and subtle," and she continues to establish herself as one of the leading jazz vocalists in Scandinavia.
She has released 9 CD's since 1997.  Three have sold gold in Sweden, the first jazz artist to have that honor since Monica Zetterlund's 1991 classic Varsamt.   Rigmor's "Alone with You" (2008) won a Swedish Grammy, and "I Will Wait for You" (2003) received The Jazz Award in Germany.
In November 2013 she received the most prestigious jazz award in Sweden, "The Royal Musical Academy's Jazz Award".  Her new CD, "When You Make Me Smile" with piano trio and orchestra, was released in August 2014.
Through the years Rigmor has toured around the globe, mostly with her own trio, but she has also featured in other constellations, (Radio String Quartet Vienna, Danish Radio Big Band, Swedish Radio Jazz Orchestra), and has appeared on a number of TV shows.  She has performed twice at celebrations for Crown Princess Victoria: Her Royal Highness' birthday and the 2010 royal wedding concert, both performances broadcasted live on Swedish National TV .  Rigmor also performed at the 2003 Nobel Prize Ceremony, also broadcasted on Swedish National TV.
In 2002 she signed with the German record company ACT.
---
Genre: Jazz
The UK's Guardian newspaper has called Rigmor Gustafsson "penetratingly delicate, and subtle," and she continues to establish herself as one of the leading jazz vocalists in Scandinavia.
Territory: not GAS
Follow Rigmor Gustafsson:
Concerts
[gigpress_shows scope=upcoming artist=15 limit=50]
Listen
Call Me Lonely
---
---