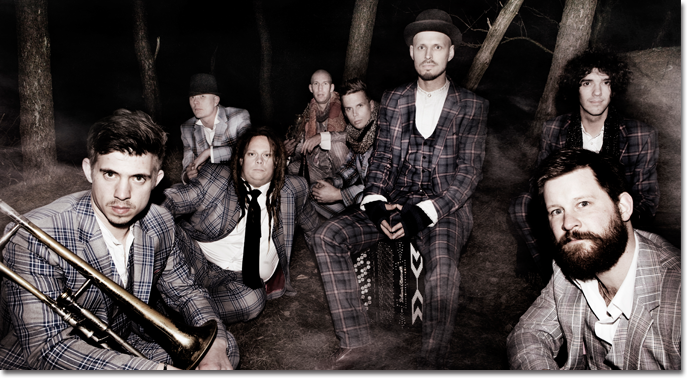 Biography
In Sweden Räfven is known as the country's wildest, and possibly best, live act. On stage, these eight "oddball gypsy punks" turn into one single organism, delivering their frenetic and untamed mix of music that sends people silly. This Spring they will be releasing a new album.
During the last years they have gained crowds from overseas and made great success at the Glastonbury Festival and were voted as "best act" at Fuji Rock 2009 by Tower Records, the biggest record store in Japan.
Raised in the streets as a busking band, no stage is too small or too big for Räfven. They never lose contact with the crowd, sending out such joy that no one stays unaffected. The party is overwhelming, but there is always an underlying seriousness.
In 2011 they are releasing their fourth album "Svensk kultur", which embraces folk music and highlights the dangers of nationalistic thinking. It received massive media recognition during the release tour and made one of the strongest political statements in Swedish music this year. In spring 2015 they they released the album "Bring back the Dinos"
Rasmus Blanck – upright bass /Johan Dahlkvist – accordion /David Fraenckel – trombone / Jonas Lundberg – guitar / Martin Nurmi – saxophone / Loke Nyberg – violin / Per Svenner drums / Daniel Wejdin – tambura
---
---