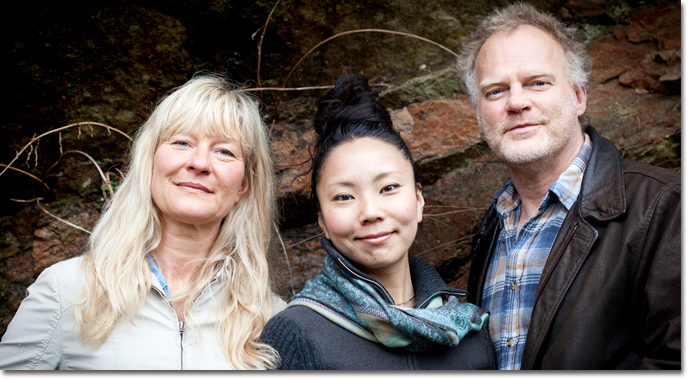 Biography
Karin Nakagawa is expressing the spirit and spreading the soul of Japan out to the world through her excellence on the 25-string Koto, an ancient harp-like instrument seldom seen outside Japan.
Karin Nakagawas roots lie in the ancient music of Japan- songs of the wind and the rain and songs of planting the rice. During her university education, Karin studied the traditional 13-string Koto, but she is today considered being one of the very few real experts of the 25-string Koto. She was inspired and taught by master Keiko Nosaka since the age of twelve.
Lena Willemark, with roots in the area of Älvdalen, has for many years been considered to be the leading singer and fiddle player in swedish folk tradition. Her importance in spreading and building understanding for this music cannot be exaggerated. A great amount of prizes and awards confirms her unique artistic depth, her international recognition and her open curiousity in new musical meetings.
Anders Jormin is a composer and celebrated double bassist, internationally highly respected within the fields of contemporary improvised music. Holding a professorship as well as being an honory doctor in improvisation, Anders has an international working field and he is one of Scandinavias jazz artists most in demand.
In the fascinating project LYÖSTRAINI (TREES OF LIGHT) Lena, Karin and Anders carefully let the japanese classical tradition, Lenas strong poems in her native Älvdals-toungue and the open fields of improvisation meet and react into a unique musical world where new paths are being created.
---
Genre: Cross-Over
Lena Willemark (voice, violin), Karin Nakagawa (25-string Japanese Koto) and Anders Jormim (Doublebass)
The album Trees of light was released on ECM worldwide.
Karin Nakagawa is expressing the spirit and spreading the soul of Japan out to the world through her excellence on the 25-string Koto, an ancient harp-like instrument seldom seen outside Japan.
Territory: Global, Middle-East, USA and Asia
Follow Lyöstraini:
Concerts
[gigpress_shows scope=upcoming artist=11 limit=50]
Listen
Vilda vindar
---
---