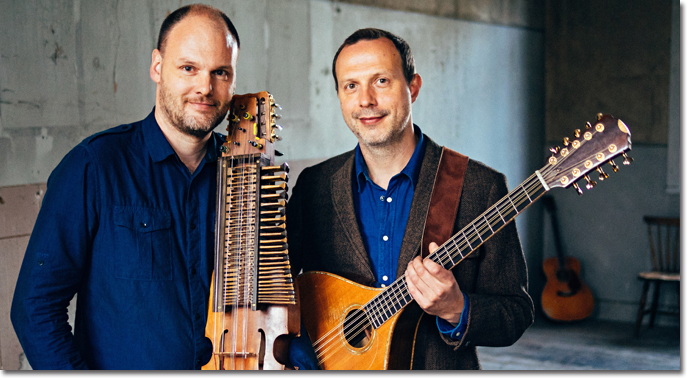 Biography
Hazelius Hedin – New Folk Star Duo
The band just released their critically acclaimed new Album "Sunnan"
Two of Sweden's most established folk musicians make up the duo Hazelius Hedin. They sing and play their Swedish folk music with passion, rare ease and unquestionable presence – it's impossible to remain unaffected.
Esbjörn Hazelius and Johan Hedin both grew up in the south of Sweden, where the traditional couple dance slängpolska is prevailing. But they search all over Sweden for their repertoire, which includes everything from medieval ballads, sailor songs, love ballads and instrumental dance tunes. Moreover, Hazelius and Hedin pass on the tradition through their own compositions. They arrange the music carefully often inspired by Esbjörn's Irish tradition of music arranging, and they constantly look for new instrumental harmonies.
Esbjörn Hazelius – song, cittern, octave mandola and guitar
Esbjörn Hazelius is one of very few professional male folk singers in Sweden who has also become a sought after instrumentalist and music arranger. He is also one of the leading experts on Irish music in Scandinavia. He has just released a solo album with his own songs, called "Blunda och du ska få se" (literally "Close your eyes and you'll see").
Johan Hedin – nyckelharpa, oktavnyckelharpa, (keyfiddle, octave keyfiddle), octave mandola and songHe's a well-known nyckelharpa player who is admired for his way of handling the instrument. For many years he has worked on developing the keyed fiddle as an instrument, for example by making several new models in different registers. He usually plays in small, intimate constellations or as a soloist in various contexts.
---
Genre: Nordic Folk
New Folk Star Duo
Two of Sweden's most established folk musicians make up the duo Hazelius Hedin. They sing and play their Swedish folk music with passion, rare ease and unquestionable presence – it's impossible to remain unaffected.
Territory: Global, Middle-East, USA and Asia
Follow Hazelius Hedin:
Concerts
[gigpress_shows scope=upcoming artist=9 limit=50]
Listen
Jungfrun och greven
---
---