Womex 2015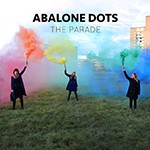 Louise Holmer, Rebecka Hjukström and Sophia Hogman, have been playing together for over a decade. They released their debut album From A Safe Distance in 2007. It was met with critical acclaim, as well as a warm welcome from the record buyers, going straight in at number 7 in the Swedish album chart. The record soon made waves across the Atlantic Ocean and four tours during 2008-2011 have given them a great reputation in America. The band's second album, Traveler released in 2008, was awarded a Swedish Grammy for Folk Album of the Year in 2009.
Their third album is called Chocolate & Cigarettes (2012). Just like on the previous album, Nashville and its merited country and bluegrass players and producers have played a big part in the creative process. On Chocolate & Cigarettes, three of Nashville's biggest names appear: Grammy winning mandolin virtuoso Sam Bush (who has played with Garth Brooks, Linda Ronstadt, Dolly Parton and others), guitarist and producer Buddy Miller (who has toured with Steve Earle, Robert Plant and Alison Krauss) and, last but not least, producer Steve Fishell (whose name appears on albums by Dixie, Chicks, Emmylou Harris and Willie Nelson). Fishell was in the audience when Abalone Dots played Nashville during one of their American tours, and excitedly insisted on producing them. They were happy to let him. On the track "Regrets", Rebecka sings a duett with legendary Ron Sexsmith.
In the spring of 2015 Abalone Dots released their fourth album, Red. It takes them closer to an indie folk genre, and is more political.
---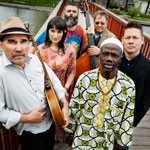 The band members in Ale Möller Band have shifting musical backgrounds and together they create world music not necessarily rooted in the individual member's background, but rather in the strength of their musicianship.
Ale Möller Band has during the last two years worked intensively, touring the Nordic countries, Portugal and Japan, and released the new album entitled "Argai" (which means "Welcome, come in!" in the West African fula language).
The album was released in the autumn of 2012.
Musically, the album contains the entire spectrum of musical influences from each band member. As with earlier album, the material weaves together new and traditional styles from all over the world together.
Ale Möller Band members are:
Ale Möller, Maria Stellas, Mamadou Sene, Magnus Stinnerbom, Sebastian Dubé and Rafael Sida Huizar.
---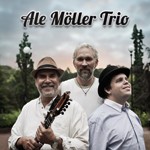 Ale Möller, Mats Öberg, and Olle Linder.
Sweden's best, and most constantly present multi instrumentalist, Ale Möller meets Mats Öberg, the pianist and keyboard player who plays whatever occurs to him. Olle Linder, another great musician in the folk music, makes the trio complete.
The band first saw the daylight during some sporadic summer gigs 2012. This led to a mini tour during 2013, resulting in an astounding success.
---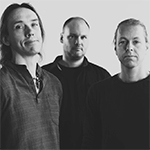 Bazar Blå – three master musicians from Sweden who have spent the last twenty years refining their sound and defining a space of their own in the world music scene. To celebrate 2016 they will release their 6th album and premiere a fully new repertoire.
Bazar Blå creates new music that manages to be just as Swedish as it is globally irresistible. Using percussion, bass-guitars, bass-mandola and nyckelharpa – an ancient Swedish folk instrument – this trio has many addictive ways of spellbinding listeners.
2016 marks their 20th anniversary as a trio. To celebrate this remarkable collaboration they have created a totally new repertoire, which will be released as their 6th album. Seven very intense years since their last recording serve as the backdrop of an extraordinary musical road trip and this next evolutionary step of Bazar Blå's unique sound.
---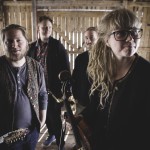 Bjäran's musical paths crossed long before the band was formed. The four members met at a young age through folk music courses, and their musical development began. This shared background has given them a mutual understanding of Northern Swedish folk music traditions, with a particular interest in the vivid harshness and melancholy of the landscape. Those early meetings paved the way for tight musical interaction and from the first rehearsal, their sound was formed.
Bjäran's unique soundscape reaches out to audiences and challenges the listener to see things from another perspective. The dynamic combination of a broad tonal image and progressive foundation of train-like percussion creates the characteristic sound of Bjäran's debut album "Ack ve" (2014), which was well received by both the folk music community and the common man.

---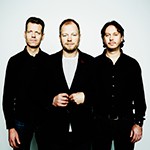 The Daniel Karlsson Trio have since their album debut Das Taxibåt in September 2013 established themselves as one of the most interesting constellations in Swedish jazz. Not least through the magnificent hat trick brought home by their sophomore release Fusion for Fish, released in August 2014. The album ended up winning them theSwedish Radio's jazz group of the year Award 2014, Swedish jazz magazine OJ's Golden Disc 2015 as well as the Swedish Jazz Grammy of 2015. Ears have been opened abroad as well, their music met with press accolades and frequent airplay in Germany, but also in the UK and Ireland.
This does not mean that the trio rest on their laurels. New music has been recorded through the Fall 2014 and the Spring of 2015 on Runmarö in the Stockholm archipelago and then honed to perfection at the brus & knaster studio in Stockholm. The result is now ready to be sent off into the world.
On this, their third outing, there's a also new member in the band. Double bass player Kristian Lind has moved to Turkey and has been replaced by his namesake Christian Spering, an outstanding musician and an exceptionally well known name for those in the know of the Swedish jazz scene. As always the new album contain a collection of exciting original compositions by Daniel Karlsson.  Nine new songs (we had to drop one title on the LP version) with a more or less pronounced theme of food apparent in the song titles. All collectively and aptly named The Daniel Karlsson Trio at the Feel Free Falafel.
And as on Fusion for Fish the brilliant artist Richard Johansson has lent us one of his out of this world oil paintings. Soundwise there is no reason to get lost, the trio's distinctive characteristics are very much in place, only even more perfected this time around. A slew of analogue synthesizers and a rare instrument in jazz settings, the Mellotron, frequently adding to the soundscape. This is not a first in jazz, for instance Herbie Hancock's Mwandishi years of the early 70s that featured Mellotron on the Crossings and Sextantalbums come to mind.
The preeminent guitarist Andreas Hourdakis makes cameos on two tracks just as on Fusion for Fish and Daniel's sister, Rebecka Karlsson, baroque violinist, is also featured on one track.
The Daniel Karlsson Trio are:
Daniel Karlsson, piano, synthesizers, mellotron
Christian Spering, double bass & tar shehnai
Fredrik Rundqvist, drums & percussion
---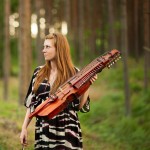 Emilia Amper, key fiddler, composer and singer, is currently one of the most talked-about and admired folk musicians in Sweden.
Emilia Amper has performed in many European countries, as well as in China, USA, Canada, Namibia, India and Brazil, both solo and together with several folk music groups. Together with the Trondheim Soloists, Gjermund Larsen and 2L and the album "In folk style" she won a Norwegian Spellemannspris in 2010 for the best classical album, as well as being nominated for two US Grammy Awards.
The same year she was proclaimed world champion on the nyckelharpa.
Since the autumn of 2011, Emilia is working full time as a freelance musician, singer, composer and teacher. In December 2012 her critically acclaimed solo debut Trollfågeln was released at the venerable classical record label BIS Records, with traditional and new composed music by Emilia, for nyckelharpa, voice, folk music ensemble and string quintet. The album was nominated for the Swedish Grammy Awards Grammis, for the Manifest awards, and for Album of the Year at the Swedish Folk and World Music Awards and Emilia won the award Artist of the Year at the Swedish Folk and World Music Awards
---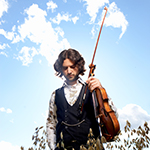 Gjermund Larsen enjoys a position as one of the most respected and active performers and composers on the contemporary Norwegian folk music scene. The Norwegian State Academy educated fiddler and composer has received several prices for his music. In 2002 he became the youngest fiddler ever to win the Norwegian Championship in traditional folk-fiddling, and in 2011 he was nominated for the Grammy Awards in the category "small ensemble performance" together with the Trondheim Soloists.
Larsen's proper debut as a composer came in the form of the work 'Brytningstid' which was commissioned by the Telemark Festival in 2006. The majority of the work is devoted to new, contemporary and original folk music which draws inspiration from the local dance music traditions of the Verdal area in the Trøndelag region. Double bassist Sondre Meisfjord and pianist/organist Andreas Utnem were featured at the premiere of 'Brytningstid' and the three have continued the fruitful collaboration to date. The three band members represent a wide range of genres ranging from classical and contemporary to jazz and pop as well as traditional folk music – a diverse background that results in a highly aesthetic and rewarding sonic landscape.
In 2008 they received the Norwegian Grammy for their debut-album "Ankomst", and their second album "Aurum" (2010), was nominated in two categories. Their third album "Reise", was released in March 2013.
---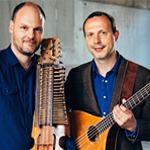 Hazelius Hedin – New Folk Star Duo
The band just released their critically acclaimed new Album "Sunnan"
Two of Sweden's most established folk musicians make up the duo Hazelius Hedin. They sing and play their Swedish folk music with passion, rare ease and unquestionable presence – it's impossible to remain unaffected.
Esbjörn Hazelius and Johan Hedin both grew up in the south of Sweden, where the traditional couple dance slängpolska is prevailing. But they search all over Sweden for their repertoire, which includes everything from medieval ballads, sailor songs, love ballads and instrumental dance tunes. Moreover, Hazelius and Hedin pass on the tradition through their own compositions. They arrange the music carefully often inspired by Esbjörn's Irish tradition of music arranging, and they constantly look for new instrumental harmonies.
---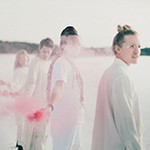 Things have developed quickly for Kolonien.
The band started 2010 when violinist Anna Möller joined the brothers Arvid & Erik Rask and Mischa Grind, adding the final voice in Koloniens characteristic four-part vocals.
The first year the band where invited to play abroad in Tanzania and Israel/Palestine, where they found inspiration and time to complete their sound, mixing folkmusic with pop- and reggae grooves. Dynamic compositions that enters the twentieth century, but still stays true to the roots.
This started to give Kolonien attention from audiences in Sweden, and in 2011 they where awarded Best Young Folk Act. Upon that they released their debutalbum Clockwise 2012, followed by a wide tour throughout Sweden and a few concerts in Croatia and Cyprus.
This established Kolonien as one of the more prominent new acts in the folkmusic scene today. And 2013 they got awarded "Newcomer of the year" at Folk & Worldmusic awards, Sweden.
Later that year they also released the first half of their second album – a five track strong EP named Sammanhang. A well reviewed story of hope and a brighter future.
Looking back, Kolonien has since the start given more than 200 concerts in seven countries, through which  they've earned  a dedicated and varied audience.
---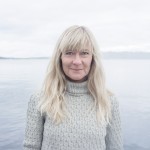 Lena Willemark has become a central figure within the Swedish folk music, and is crosses borders between genres in a revolutionary, yet unforced, way.
Lena Willemark bears a unique music treasure from her roots in the Swedish area of Älvdalen.
Willemark sings, plays the violin and composes music. Over the years, she has worked with several musicians in many different genres. Frifot, Elise Einarsdotter, Karin Rehnqvist, Anders Jormin, Ale Möller, Marilyn Mazur, Kirsten Bråten Berg, Det Norske Kammerorkester, Kungliga Filharmonikerna and Göteborgs Symfoniker (Gothenburg\'s Symphony Orchestra), to name but a few.
She has been awarded with four Swedish Grammys and nominated for the Nordic Music Prize.
---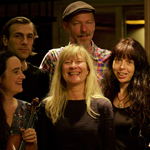 Lena Willemark's latest recording project, Blå Ferdi, took place during October 2015, and has been scheduled for release in March 2016.
Says Lena, "I have composed this music both during daylight, and the darkest night, straight storytelling as well as dreamy blue. I wrote the music for a dream constellation of fantastic folk musicians and have been inspired by some very powerful lines from Siri Hustvedt's book "The Shaking Woman":
"Around and under the island that is the self-conscious storyteller is a wide ranging ocean of unawareness of all that we don't know, never will know, or have forgotten."
---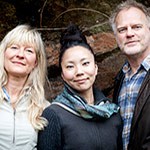 Karin Nakagawa is expressing the spirit and spreading the soul of Japan out to the world through her excellence on the 25-string Koto, an ancient harp-like instrument seldom seen outside Japan.
Being raised in a family of musicians and being always well known for her versatility in improvisation, Karin today collaborates with musicians from Eastern, Western and Folk traditions, as well as Jazz and Contemporary styles. Not being limited to specific genres or fields, she also successfully collaborates with Storytellers, Actors, Dancers and Painters.
Karin Nakagawas roots lie in the ancient music of Japan- songs of the wind and the rain and songs of planting the rice. During her university education, Karin studied the traditional 13-string Koto, but she is today considered being one of the very few real experts of the 25-string Koto. She was inspired and taught by master Keiko Nosaka since the age of twelve.
Lena Willemark, with roots in the area of Älvdalen, has for many years been considered to be the leading singer and fiddle player in swedish folk tradition. Her importance in spreading and building understanding for this music cannot be exaggerated. A great amount of prizes and awards confirms her unique artistic depth, her international recognition and her open curiousity in new musical meetings.
Anders Jormin is a composer and celebrated double bassist, internationally highly respected within the fields of contemporary improvised music. Holding a professorship as well as being an honory doctor in improvisation, Anders has an international working field and he is one of Scandinavias jazz artists most in demand.
In the fascinating project LYÖSTRAINI (TREES OF LIGHT) Lena, Karin and Anders carefully let the japanese classical tradition, Lenas strong poems in her native Älvdals-toungue and the open fields of improvisation meet and react into a unique musical world where new paths are being created. The music of this ensemble carries an impression of history, of today and tomorrow- in the same, resonant spur of the moment…
---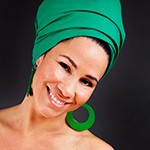 Miriam Aïda – one of Sweden's most popular singers with an international career has performed in Japan, UK, Brazil, France, Spain, USA, Turkey, Russia, Italy, Germany and of course all around Sweden and Scandinavia, both as a solo artist as well as with Italian DJ/producer Nicola Conte and the band A Bossa Elétrica. After her time exploring the music traditions of Brazil and her success with the albums Meu Brasil and Letras ao Brasil she has been spotted in several national TV shows. Miriam´s extensive talent travels through a number of musical landscapes and since her album-debut in 2002 she has released 7 albums as a leader.
Artist of the year at Swedish World Music Awards 2012
"A versatile artist, colourful, headstrong, audacious and personal. A performer who twists and turns on the familiar and who creates new perspectives for all of us." This was the jury's statement when Miriam Aïda received the price for Artist of the year at the Swedish World Music Awards in 2012. Following the success of the Swedish Grammy, Manifest and World Music Awards nominated albums Letras ao Brasil (2009) and Visans Väsen (2011), mixing Swedish traditional songs with Brazilian rhythms, her latest album "É de Lei!" honours the Brazilian legend and founder of Afro Samba, Baden Powell, and it is intimate, melancholic, full of energy, mysterious, happy and is a journey deep into the heart of the afro-Brazilian music. The album is recorded in Sweden and Rio de Janeiro in collaboration with the Brazilian arranger Jayme Vignoli, and also features one of Rio's greatest singers, Marcos Sacramento, who joins Miriam in a beautiful duet on "Samba em Prelúdio". The music of Miriam Aïda and her band, Mats Andersson on 7 string acoustic guitar, Ola Bothzén and Finn Björnulfson on percussion, is a lovely mix of samba from Rio, afro-Brazilian rhythms from candomblé and capoeira with influences of reggae, jazz and soul, and along with their own Swedish musical background, they create a unique vibe with a strong identity and sound.
---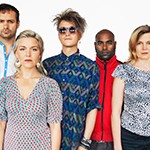 New Tide Orquesta (former New Tango Orquesta) is one of the most appreciated live acts in Sweden. During 16 years of international touring, the band has found their very own role as the constant outsider. This Fall they will release their 8th album!
At a rock club in Moscow, jazz festival in Istanbul, tango club in Buenos Aires or a concert hall in Beijing. NTO always take the audience by storm and shows on and on that genre is just a word.
With the composer Per Störby in lead, New Tide Orquesta have, through their six albums, created a unique sound and style; the miscellaneous mix of modern chamber music, minimalism, baroque, free improvisation, and still, a hint of new tango, with an intense dynamic. The album "Bestiario" was nominated for a Swedish Grammy award, and "Vesper" won the "experimental of the year"-award at the Swedish Manifest gala, and 2010 they were awarded "Group Of The Year" at the Swedish folk- and world music gala. The music has been used in several movies, and they have also made music to several theatre plays, dance performances and art installations.
New Tide Orquesta has a big and loyal audience, and concerts with NTO always promise a touch of magic: intense, concentrated, intimate and thrilling.
---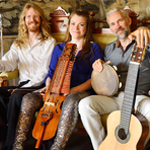 ODE is a band with a sound full of rhythmic influences from Sweden, West Africa, Brazil and the Middle East and focuses on groove.
ODE is a new band consisting of three glimmering stars in the Swedish folk music sky: Olle Linder (percussion, guitar, vocals), Dan Svensson (percussion, vocals, guitar) and Emilia Amper (nyckelharpa and vocals). Their chemistry, as people and musicians, is extraordinary and they build their repertoire solely on original, newly composed, material. The lyrics have a contemporary feel, and are inspired by things that concern us here and now, touching on subjects ranging from love and equality, to folk music's current status. Their debut album was released in June 2013 and have been touring since then. ODE is now working on new material due to be released in 2015.
---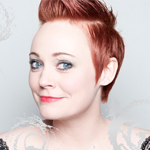 Ragnhild Furebotten began her fiddle-playing career at the breakfast table. It was a Sunday morning and she was not more than six years old. "My dad's hunting buddy was the fiddle-teacher where we lived and my dad asked me if I wanted to learn to play," she explains, laughing. Her response? "Sure." So right then and there, in the kitchen of a house in the far north of Norway over a plate of bread and cheese, Ragnhild's future was decided. She remembers it well.
The road to becoming one of Norway's most prominent and well-respected fiddlers meant spending the first years mastering the traditional songs from where she grew up in Salten, Norway. After inheriting her great-grandpa's vast collection of recordings and manuscripts she became even more interested in studying traditional music. Ragnhild began formal music studies at the age of 16 at high-school in Tromsø, Norway. This is where she first met guitarist Tore Bruvoll, with whom she has collaborated since. Inspired and ready for more, she spent two years playing the fiddle at Telemark College, followed by four more years of intensive study at the Norwegian Academy of Music in Oslo.
---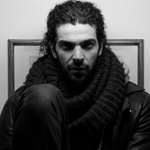 Ramy Essam is an Egyptian musician and activist. He´s best known for his appearances in Tahrir Square in Cairo in front of hundreds of thousands people during the Egyptian Revolution in 2011, where he quickly became one of the most important voices of the Arab Spring.
His song Irhal, in which Egyptian president Hosni Mubarak was urged to resign, gained great popularity among the demonstrators. It became internationally known through YouTube, and is referred to as the anthem of the revolution. It was selected by Time Out as the third most world-changing song of all time, being one of the most influential songs of the modern age.
Although Ramy was arrested and brutally tortured because of his music, he came out even more determined to speak out against tyranny and corruption.
---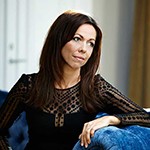 Rigmor jus released her critically acclaimed "When you make med smile" together with Dalasinfoniettan. This is her 10:th album. 
The UK's Guardian newspaper has called Rigmor Gustafsson "penetratingly delicate, and subtle," and she continues to establish herself as one of the leading jazz vocalists in Scandinavia.
She has released 9 CD's since 1997.  Three have sold gold in Sweden, the first jazz artist to have that honor since Monica Zetterlund's 1991 classic Varsamt.   Rigmor's "Alone with You" (2008) won a Swedish Grammy, and "I Will Wait for You" (2003) received The Jazz Award in Germany.
In November 2013 she received the most prestigious jazz award in Sweden, "The Royal Musical Academy's Jazz Award".  Her new CD, "When You Make Me Smile" with piano trio and orchestra, was released in August 2014.
Through the years Rigmor has toured around the globe, mostly with her own trio, but she has also featured in other constellations, (Radio String Quartet Vienna, Danish Radio Big Band, Swedish Radio Jazz Orchestra), and has appeared on a number of TV shows.  She has performed twice at celebrations for Crown Princess Victoria: Her Royal Highness' birthday and the 2010 royal wedding concert, both performances broadcasted live on Swedish National TV .  Rigmor also performed at the 2003 Nobel Prize Ceremony, also broadcasted on Swedish National TV.
After moving to New York in 1993, Rigmor started working invarious jazz clubs in the NYC area (Birdland, Smalls, Metronome etc.)  Mainly performing with her own quintet, she also performed with a range of legends including Fred Hersch, Reggie Workman, and bassist Avish Cohen, recording alongside Randy Brecker and Bob Mintzer.  She returned to Sweden in 1996, formed a quintet, and released her first CD "In the light of day" in 1997.  In 2002 she signed with the German record company ACT.  Besides performing, she has also taught jazz voice at Sweden's Royal Academy of Music.  When not performing, she enjoys horseback riding and a good book.
---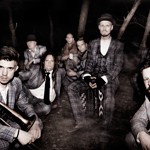 In Sweden Räfven is known as the country's wildest, and possibly best, live act. On stage, these eight "oddball gypsy punks" turn into one single organism, delivering their frenetic and untamed mix of music that sends people silly. This Spring they will be releasing a new album.
During the last years they have gained crowds from overseas and made great success at the Glastonbury Festival and were voted as "best act" at Fuji Rock 2009 by Tower Records, the biggest record store in Japan.
Raised in the streets as a busking band, no stage is too small or too big for Räfven. They never lose contact with the crowd, sending out such joy that no one stays unaffected. The party is overwhelming, but there is always an underlying seriousness.
In 2011 they are releasing their fourth album "Svensk kultur", which embraces folk music and highlights the dangers of nationalistic thinking. It received massive media recognition during the release tour and made one of the strongest political statements in Swedish music this year. In 2015 they will release their fifth album.
---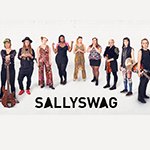 Sallyswag is a vibrant live act and powerful music collective. With flash solos, heavy grooves and a feminist message, the band represents a unique act, unparalleled on the music scene: nine musicians with roots in Dancehall, R & B/Hip-Hop, Pop/Jazz, Balkan and Oriental as well as Afro-beat and Swedish folk music.
During winter 2013, violin and fiddle player Erika Risinger started her dream band. She searched for the coolest and best musicians she could think of. The result was the nine-person-band Sallyswag, who premiered on the Swedish Folk And World Music awards/Umeå Opening in February 2014. Since the premiere, Sallyswag has played around 60 highly acclaimed gigs across the country.
---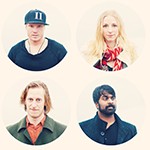 Skenet is a band of four young and fearless Swedes who grew up together in the vibrant Nordic folk-music scene that provides the roots of their sound. As kids playing the violin together, they became fast friends while exploring the language of music. Today, the collaboration – like their friendship – continues to grow. 
In Skenet, that violin still creates the melody and voice, but adding drums, electric guitar, bass, and moog makes for a unique combination of Nordic roots music and electric rock. While some of the melodies date from the 1800s, most are original compositions by siblings Lena and Staffan Jonsson. The themes may be inspired by a rich tradition, but the end result is something entirely new: instrumental, folk-rocking, and psychedelic!
---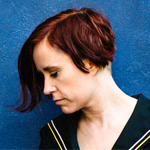 Sofie Livebrant's Lighthouse Stories
Swedish "songcatcher" Sofie Livebrant released her album Lighthouse Stories 2015 and embarked on a grand Lighthouse Tour around the North Sea – UK, Sweden, Denmark and Norway. A tour that will also become a documentary film, broadcasted spring 2016 on Swedish television.
Sofie Livebrant's fourth album Lighthouse Stories is a collection of songs where Livebrant has set music to text fragments from Jeanette Winterson's novel Lighthousekeeping. Livebrant calls herself a "songcatcher"- a person who finds songs in the words of others – she is well known as a composer of some of Swedish singer Sofia Karlsson's most beloved Dan Andersson songs and for her setting of music to the words of poets Karin Boye and Emily Dickinson. She is an experienced theatre and choir composer. Aside Lighthouse Stories she do the performance "Three Women" containing beautiful songs and readings from the lyrics of Emily Dickinson 1820-1886 U.S, Karin Boye 1900-1940 SWE and Jeanette Winterson 1961 UK.
---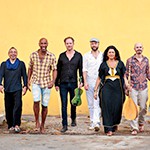 Formed in 2008, Tarabband, a word game on Tarab and Band, is a six-member band composed of the Iraqi Egyptian Nadin Al khalidi and fve other musicians from Sweden and France. A cross-cultural attempt at creating Tarab "ecstasy through music" when emotions and music merge and become one.
The group's leading fgure and charismatic vocalist Nadin Al khalidi, fed from Iraq year 2001 arriving to Sweden as a refugee. Settled in southern Sweden, Malmö where she now calls home. Whether it's Iraqi, Egyptian, or Swedish, Nadin celebrates her triple identity, a mix that is culturally rich.
Tarabband's music embrace Nadin's lyrics that narrates her journey of survival, exile and life. Weaving the personal element into the songs allows Nadin to talk about " people we never hear of. The least we could do is share their story."
Tarabband's debut album "Ya Sidi" – " My Master" was released in 2013 and contains 10 original compositions. The music and words, as Tarabband's members, travels between Sufsm, Folk, Flamenco, Jazz and settles in Tarab, the common denominator.
Widely spread through out the Middle east and North Africa, the album's frst track "Baghdad Choby" is the group's "visa" to the middle east's music scene.
(Choby is an Iraqi rhythm)
The group's second album "Ashofak Ba'den" – " We'll meet again someday" will be released in February 2016. The record will unfold stories behind " The very last photo of a couple who was separated by the force of war and terror in Northern Iraq. The couple's destiny remains unknown".
Tarabband held successful sold out concerts in Egypt and Jordan earlier 2015, in addition to festival participations in Malaysia, Zanzibar, Sweden and Europe.
---